Brochure FAQ
On this page you will find most commonly asked questions about our Brochure Design and Printing services. If you still have unanswered questions after reviewing this page, please either chat with an available representative, call us at (877) 759-4440 or visit our contact us page. We would be glad to answer any questions you might have regarding our services.
What is a Brochure?
A Brochure is a pamphlet or booklet that describes a company, its services, and products. A Relidy designed brochure consists of at least 4 spreads (8 pages) and is the ideal marketing tool to leave with potential customers, builders, realtors and pass out at shows and events. A Relidy designed brochure will help you stand out from your competition and is a powerful marketing aid. A multi-page brochure tells your customer that you are serious about business and that you will also be serious about their systems. A brochure is also a great way to make your potential customer aware of all the additional services your company offers.
What are the different Spreads?
Relidy can design a spread (2 opposing pages in a booklet) about any product, service, or topic, but we have put together a list of some of the most common spreads used by audio/video/security companies. Included in our brochure packages are some of these more popular spreads. See below for details about these included spreads: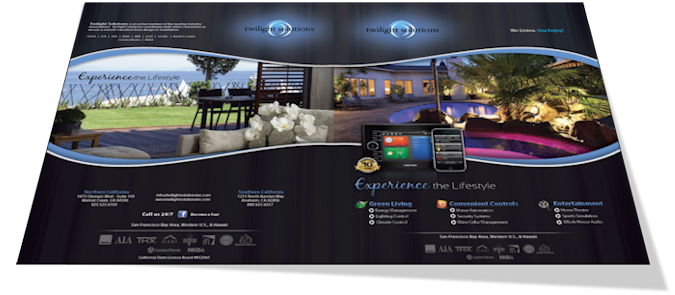 The Brochure Cover includes company information with custom design elements. Sample is based on organic style.
The Company Overview spread is designed to introduce your company and give some details about it.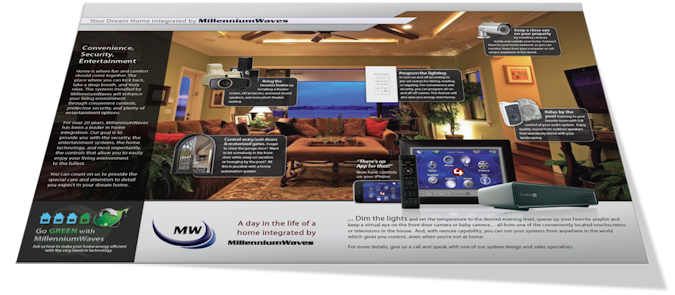 The LifeStyle spread is a graphical overview of the various main products and services that go into a project.
The System Category spread highlights a particular type of service, for example this sample is all about independent living for the elderly and how this company's products, services, and expertise can make this a reality.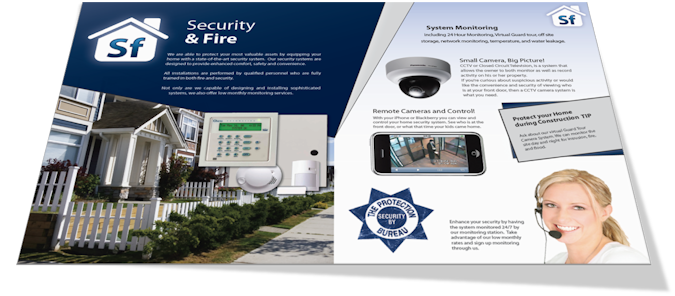 The Service spread details a single particular product or service. This example is all about security and fire systems.
The Process spread details the process your company follows from the design phase though final programming.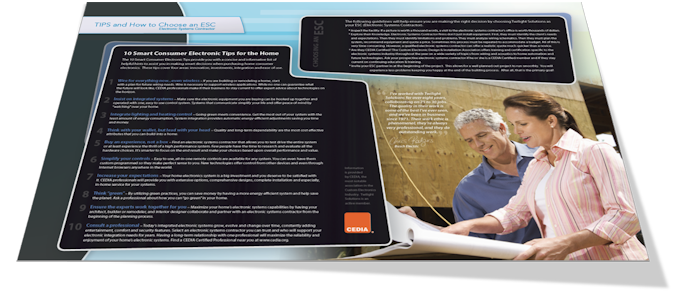 The "Why Us" spread details and lists reasons why a prospect should pick your company over the competitor.
The Testimonials/Projects spread includes testimonials from customers and some highlighted projects.
Additional Services spread lists secondary services that might easily be overlooked by potential customers
What files do I receive at the end of the project?
You will receive 2 PDF files, one high resolution for commercial printing and one low resolution version. These will be uploaded to your Relidy account. The final files will be available for download from your account for a six month period.
How does printing with Relidy work?
Relidy does not require you to print with us, but does offer very competitive printing services. All of our printing partners have been selected carefully for their attention to quality to ensure that you receive the best possible Brochures at a competitive price.